The Ultimate Style in 43 days!
FOUR COUNTRIES – THREE UNIWORLD SUPER SHIPS – ONE UNFORGETTABLE JOURNEY
Travel across Egypt, India and Southeast Asia on one incredibly unique itinerary. Guests will sail along the Nile, the Ganges and the Mekong as well as enjoying the very best land tours available, including a five night tour of India's Golden Triangle. This sailing is their most exclusive itinerary ever offered.
View the brochure online here to find out more!

River Line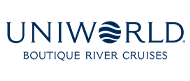 Ships: Super Ship Sphinx, Ganges Voyager II & Super Ship Mekong Jewel
Tour Map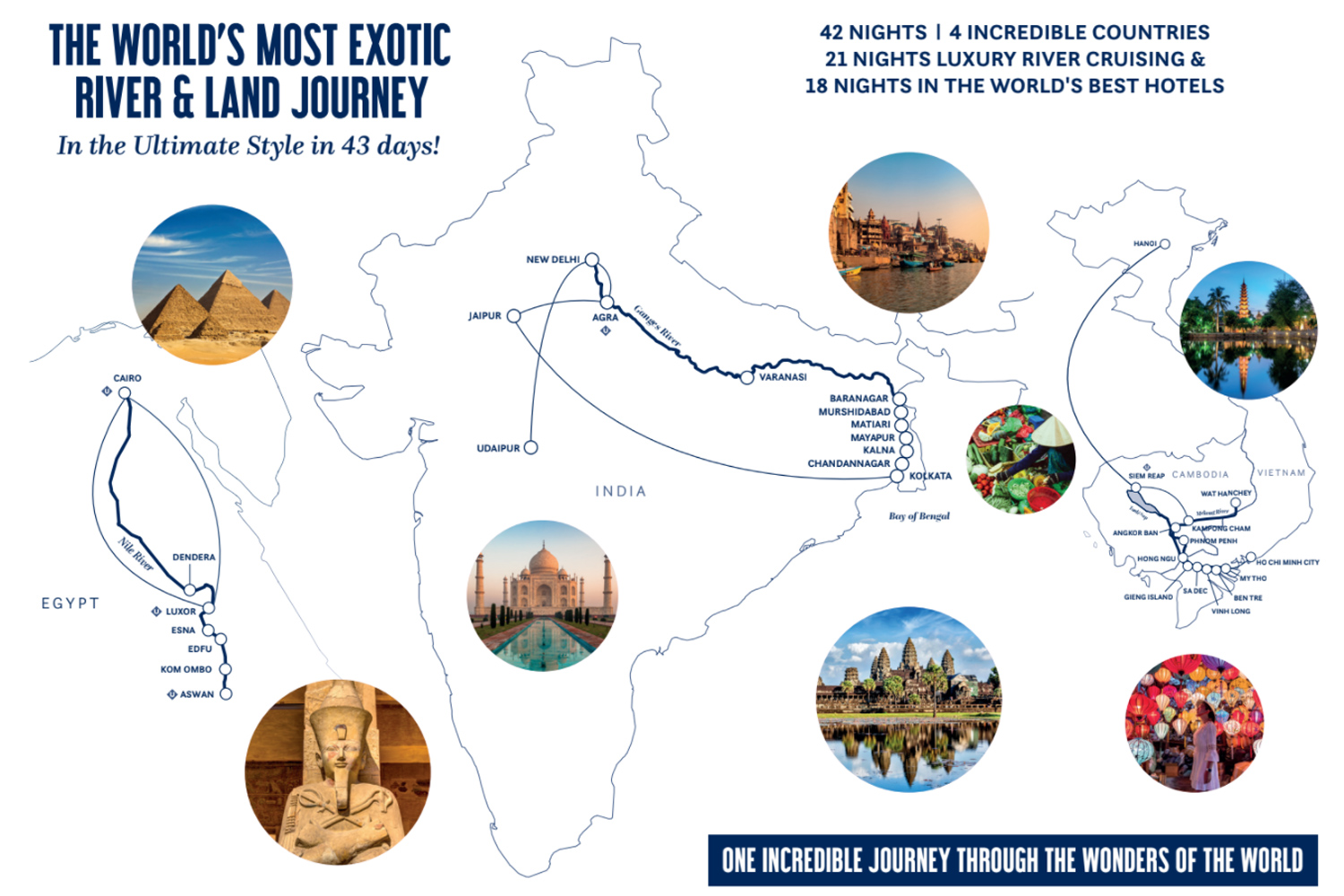 For more detail on each day/port of call, please click on the day below:
Price Guide
| 7th January 2023 | Price (pp) |
| --- | --- |
| Lead Grade Cabin | was £18,885 now £16,995 |
| Grand Suite | was £23,585 now £21,225 |
| Royal Suite | was £26,985 now £24,285 |
What's Included - Part One: Egypt
• Return flights from the UK & international transfers
• Multiple excursions hosted by English speaking Egyptologist
• Complimentary house wine, local beer, soft drinks, tea, and coffee will be served during lunch and dinner onboard
• Welcome and Farewell Gala Dinners
• Captivating onboard local entertainment
• Five nights' stay in the Four Seasons Cairo
• Visits to 15 UNESCO World Heritage Sites
• Free Wi-Fi access
• All on board gratuities
What's Included - Part Two: India
• Daily choice of included excursions, many of which exclusive to Uniworld guests
• Complimentary house wine, local beer, soft drinks, tea, and coffee will be served throughout the cruise
• Welcome and Farewell Gala Dinners
• Captivating onboard local entertainment
• Exclusive early morning visit to the Taj Mahal
• Visits to 4 UNESCO World Heritage Sites
• Free Wi-Fi access
• All on board gratuities
What's Included - Part Three: Vietnam, Cambodia & The Mekong
• Daily choice of included excursions, many of which exclusive to Uniworld guests
• Complimentary house wine, local beer, soft drinks, tea, and coffee will be served throughout the cruise
• Welcome and Farewell Gala Dinners
• Captivating onboard local entertainment
• Five nights' accommodation in luxury hotels
• Visits to 2 UNESCO World Heritage Sites
• Free Wi-Fi access
• All on board gratuities
For more information or to book, call: