A River Cruiser's Guide to the River Danube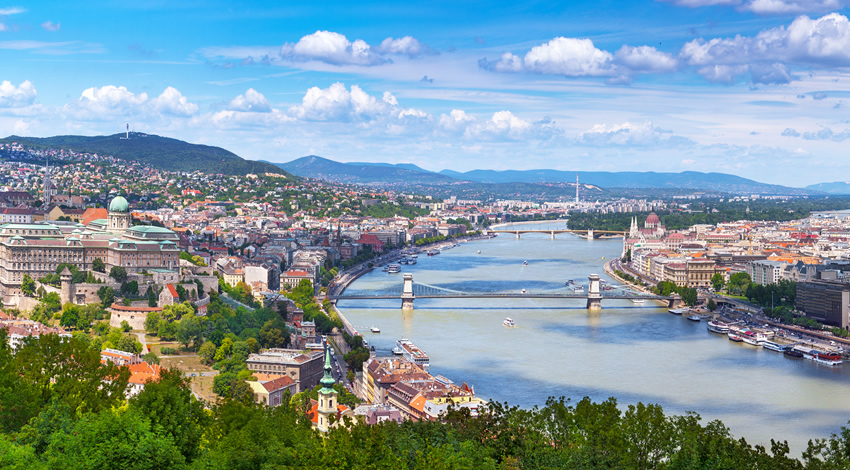 The River Danube is the 2nd largest river in Europe, flowing through a total of 10 countries from Germany to the Black Sea. Full of history, from medieval towns to grand historic cities, a River Cruise along the Danube will not disappoint. The River Danube has three sections, the upper section, the middles section and the lower section – all of which offer a great experience. Whether you're passing through Vienna, 'the city of music', discovering the local traditions of Budapest or visiting the ancient treasures in Regensburg you'll be sure to experience a great range of culture.
Highlights of a Danube River Cruise
Vienna
Defined by its beautiful city scape of baroque buildings and also known as the 'City of Music', Vienna is perfect for both music lovers and culture vultures! Not only famous for its music, from Baroque Palaces to Legendary coffee houses Vienna has a lot to offer and is full of culture. Your ship will dock just outside of the centre of Vienna at the Reichsbrucke, there is easy access to the centre via their tube system (usually the U-Bahn 1 Line) - some river cruise lines operate a shuttle bus to the centre! While in Vienna be sure to visit St Stephan's Cathedral, one of the greatest gothic structures in Europe – the architecture is beautiful, topped with a tower standing 137 metres tall! PLUS you can take a look inside! It is worth mentioning here that a lot of river cruise lines operate a complimentary city tour of Vienna which will take you to the highlights of Vienna, including the Hofburg Imperial Palace, past the Spanish Riding School and through the city towards St Stephan's Cathedral! While in Vienna you may be offered an optional tour to Schonbrunn Palace, the former imperial summer residence and a World Heritage site! Surrounded by a beautiful park and gardens Schonbrunn Palace is said to be one of the most remarkable Baroque ensembles of its kind in Europe.

Budapest
The beauty of visiting Budapest on a river cruise is that you stop right in the heat of the city! The blue Danube flows through the heart of Budapest and in fact splits Buda from Pest with the famous Chain Bridge joining the two together! During your day in Budapest there will most likely be a complimentary city tour organised, which I highly recommend you join! The city tour will take you to all the highlights of both Buda and Pest most probably including the Royal Palace, Heroes' Square, the National Opera House, the Castle District and Fisherman's Bastion – most take you via coach with chances to get off and explore at major highlights. If during your river cruise you happen to sail away from Budapest in the evening – put a jacket on and head out on deck with your camera – the view is spectacular, the city looks stunning lit up at night!

Bratislava
Situated in the heart of Central Europe along the river banks of the Danube is one of Europe's newest capital cities, Bratislava. Not because the place itself is new – but because of Bratislava's eventful past! Until 1992 Bratislava was a region of Czechoslovakia before becoming a country in its own right. Because of its history Bratislava has impressive architecture, galleries and museums. Whilst in Bratislava it is definitely worth wandering through the picturesque old town past baroque palaces and 16th century castles! Both Mirbach Palace and St Martin's Cathedral are two main highlights if you are interested in the culture and history of the country! St Martin's Cathedral has a particularly unusual spire topped by a tiny Hungarian Crown! Perhaps you are less interested in architecture and history - there are some traditional pubs and sophisticated restaurants in the old town that serve some delicious local cuisine!
When to go?
Most river cruise lines operate along the Danube between March and December. That being said, the summer months are of course the warmest.
It is also worth mentioning here that Christmas themed river cruises which visit major European Christmas Markets operate from late November and through December.

Who is a Danube river cruise for?
The Danube is a perfect river cruise for those who wish to discover Europe! The Danube flows through a total of 10 European countries – many of which are included in a Danube Discovery river cruise!
Cruise lines that operate on the Danube
Because the Danube is one of the most popular, if not the most popular river cruise it is not surprising that you will find almost every river cruise line operating on the Danube! And you will probably choose a particular river cruise line depending on various factors including, price, inclusivity, and date of travel and even because of differences in itineraries!
AmaWaterways, Emerald Waterways, APT River Cruises, UniWorld River Cruises and Scenic Tours river cruises are amongst the many operating on the Danube! If you're looking for 5* luxury at great value for money check out Ama Waterways! Perhaps you're looking for an ultra-all-inclusive river cruise? Scenic Tours challenge you to leave your wallet at home!
Which is the best river cruise operator? Find out what we think here!
Click here to see a selection of our Danube River Cruise offers.
---
Looking for a great deal? Visit www.rivercruising.co.uk to find the right river cruise for you!
Alternatively, call one of our friendly river cruise experts on 0800 810 8229.
---
Come back soon. Jess Nuttall - RiverCruising.co.uk