China, Japan, Vietnam & India 2018 Sale
Whether its Vietnam's serene landscapes, the iconic sights of China or perhaps India's colourful culture that's next on your bucket list? It's not too late to experience them this year, with incredible savings of up to £500 per person across Wendy Wu's full range of 2018 tours if you book by 31 July*
China, Southeast Asia & India 2019 Sale
Book any fully escorted tour to China, Southeast Asia or India travelling in 2019 by 31st July and you'll pay the original published 2018 prices PLUS receive FREE VIP door-to-door chauffeur pick up†.
Japan Sale
DON'T MISS JAPAN'S CHERRY BLOSSOM IN 2019 WITH A BUSINESS CLASS UPGRADE FROM £99pp. The cherry blossom in full bloom is a truly incredible sight to behold. Wendy Wu are giving you a once-in-a-lifetime opportunity to experience this natural phenomenon in real style - with an upgrade to a luxurious Business Class cabin from only £99pp one-way. Upgrade both ways from just £799pp**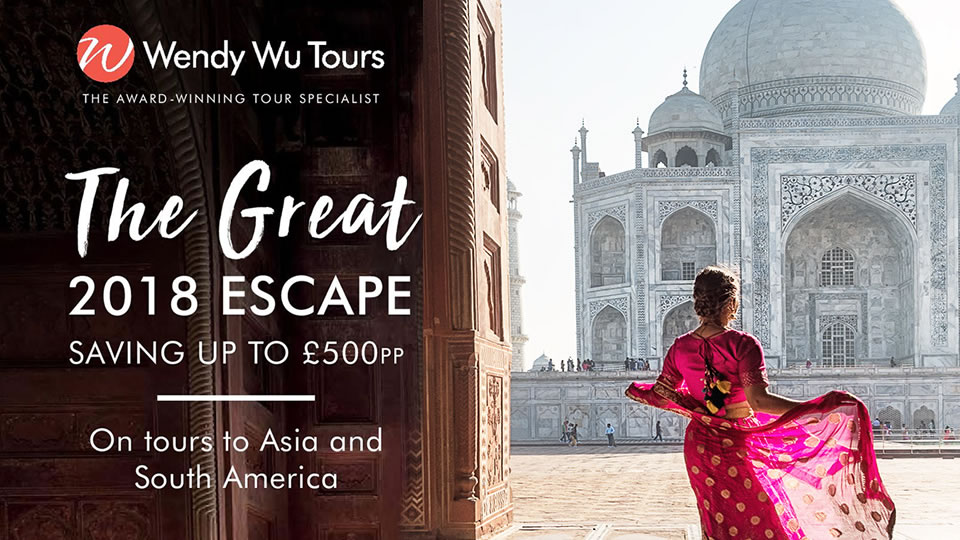 Explore the intoxicating beauty of China, the rich history of Japan, the vibrancy of Southeast Asia and the incomparable majesty of India with Wendy Wu Tours.
With over 20 years of experience, Wendy Wu Tours is the UK's leading specialist tour operator in Asia. Wendy Wu Tours knows every fascinating and vibrant corner of Asia, encouraging all passengers to truly discover each destination.
Asian River Cruises – Travel Iconic Waterways in Comfort
The Yangtze, Mekong, Chindwin and Irrawaddy are some of the most beautiful and iconic waterways in the world. By travelling along these magical rivers, you'll be deep within your destination, experiencing the countries you pass through in a unique and immersive way. Witness sights, landscapes and animals that aren't accessible in any other way.
And experience it all from the comfort of a spacious, welcoming river cruise ship – replete with all the amenities you'd expect in a hotel.
Wendy Wu Tours really shines when it comes to shore excursions, where local culture and history come to life in the words and actions of experienced tour guides.
Reasons to Travel with Wendy Wu Tours:
Five-star rated on TripAdvisor
Great value, fully inclusive tours
Visas included on all tours
UK's number-one Asia specialist
Experienced English-speaking tour guides.
With award-winning excursions and unparalleled local knowledge, Wendy Wu Tours is the perfect match for those who want to explore the majesty of Asia. Enquire online or call the River Cruising team today on 0800 810 8220.