Rhine & Moselle Discovery 2019 Viking River Cruise
NEW CRUISE FOR 2019 Discover Roman Trier. Taste Moselle Rieslings. Enjoy scenic cruising through the Rhine Gorge, a UNESCO Site, passing iconic Lorelei Rock. Stroll through quaint Mainz and see an original Gutenberg Bible in the Gutenberg Museum. Visit Speyer and its landmark cathedral, the burial place of eight emperors. Explore Strasbourg, the cultural center of France's Alsace region. Vineyard-flanked slopes and historic cities make this 8-day journey irresistible.
Book by 31st March 2019 & save £500pp on 2019 Viking River Cruises PLUS free gratuities* Call 0800 810 8220 to secure your cabin!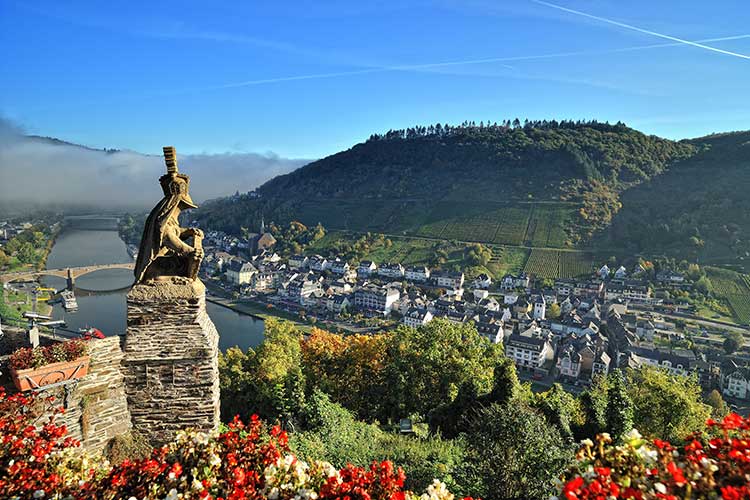 Price Guide
| Date | Price (pp) | Save up to |
| --- | --- | --- |
| 03 June 2019 (in reverse) | £1,995 | £500pp |
| 10 June 2019 | £1,995 | £500pp |
| 17 June 2019 (in reverse) | £1,995 | £500pp |
| 01 July 2019 (in reverse) | £1,995 | £500pp |
| 15 July 2019 (in reverse) | £1,995 | £500pp |
| 29 July 2019 (in reverse) | £1,995 | £500pp |
| 05 August 2019 (in reverse) | £1,995 | £500pp |
| 12 August 2019 (in reverse) | £1,995 | £500pp |
| 19 August 2019 (in reverse) | £1,995 | £500pp |
| 26 August 2019 (in reverse) | £1,995 | £500pp |
| 02 September 2019 | £1,995 | £500pp |
| 09 September 2019 (in reverse) | £1,995 | £500pp |
| 16 September 2019 | £1,995 | £500pp |
| 23 September 2019 | £1,995 | £500pp |
| 30 September 2019 | £1,995 | £500pp |
| 07 October 2019 (in reverse) | £1,995 | £500pp |
| 14 October 2019 | £1,995 | £500pp |
| 21 October 2019 (in reverse) | £1,995 | £500pp |
| 28 October 2019 | £1,995 | £500pp |
| 04 November 2019 (in reverse) | £1,495 | £500pp |
| 08 November 2019 (in reverse) | £1,495 | £500pp |
| 11 November 2019 (in reverse) | £1,495 | £500pp |
| 15 November 2019 | £1,495 | £500pp |
| 29 November 2019 (in reverse) | £1,495 | £500pp |
| 06 December 2019 | £1,495 | £500pp |
| 13 December 2019 (in reverse) | £1,495 | £500pp |
What's Included
Savings of £500pp plus free gratuities*
Return flights from a choice of UK airports (some may require a supplement)
7 nights in a river-view stateroom
Beer, wine and soft drinks with on board lunch & dinner
Complimentary internet service
Welcome cocktail reception & farewell dinner
24/7 specialty coffees, teas & bottled water
Room steward & twice-daily housekeeping service
All port charges & overseas transfers