Splendours Of Egypt & The Nile Uniworld River Cruise
Set sail on an eight-day voyage onboard the all-suite River Tosca. Wander amongst the towering ruins of the Temple of Karnak, the world's largest ancient religious complex, and the entrancing Temple of Luxor. Visit temples dedicated to Hathor, Horus, and other mythological figures, and pay homage to the country's first female ruler at the Temple of Hatshepsut. Follow in the footsteps of renowned scholars and explorers as you venture forth into the Valley of the Kings, the ancient burial grounds of Egyptian royalty. You will enjoy an exhilarating ride in a felucca, a traditional Nile River sailboat.
This captivating itinerary begins and ends in Cairo, where you'll visit the famous Egyptian Museum and its stupendous and unrivalled collection of pharaonic artifacts, including treasures recovered from the tomb of King Tutankhamun. Journey to Giza to gaze upon the mighty ancient Pyramids and the timeworn, enigmatic Sphinx—iconic images that continue to amaze.
An enchanting land of marvels, myths, and wonders old and new, Egypt is an extraordinary destination no culturally curious traveller will want to miss.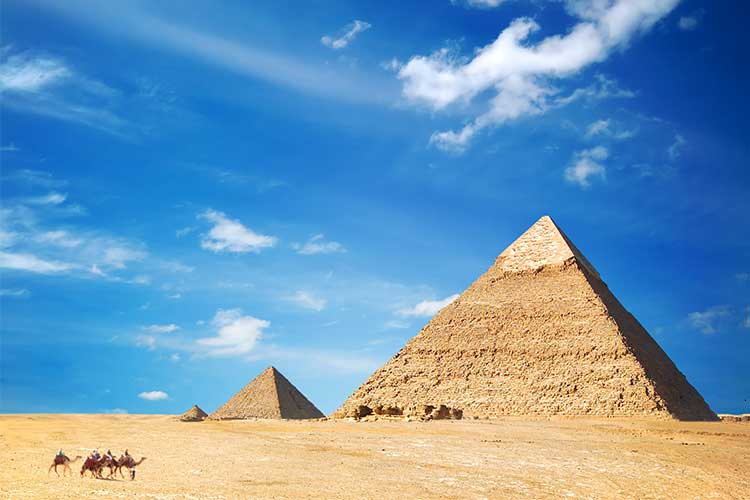 Price Guide
| Date | Price from (pp) |
| --- | --- |
| 28 September 2019 | £4,595 |
| 05 October 2019 | £4,795 |
| 12 October 2019 | £4,795 |
| 19 October 2019 | £4,795 |
| 26 October 2019 | £4,795 |
| 02 November 2019 | £4,795 |
| 09 November 2019 | £4,795 |
| 16 November 2019 | £4,495 |
| 23 November 2019 | £4,495 |
| 30 November 2019 | £4,495 |
| 07 December 2019 | £4,999 |
| 14 December 2019 | £4,495 |
| 21 December 2019 | £4,495 |
| 28 December 2019 | £5,699 |
What's Included
Return London Flights, other regional airports may be available at a supplement.
7-night cruise in a riverview stateroom
4 Nights Touring
25 meals including 1 gala dinner
All transfers on arrival and departure days
Services of an experienced Uniworld Cruise Manager
All meals onboard, prepared using the finest and freshest ingredients
Free Internet and Wi-Fi access
25 meals including 1 gala dinner
Captain's Welcome and Farewell Receptions & Welcome and Farewell Gala Dinners
Unlimited beverages onboard, including fine wine, beer, spirits, soft drinks, specialty coffee and tea, and mineral water
12 excursions including 4 UNESCO World Heritage sites
Visa Requirements
It is your responsibility to verify all visa and passport requirements necessary for your holiday. You are responsible for obtaining independently and paying for all visas and entry documents, for meeting all health and other requirements, and for any documents required by the laws, regulations, orders, and/or requirements of the countries you will visit. You should confirm the necessary requirements for visas via the Foreign and Commonwealth Office website which can be found here
If you are unsure regarding how to obtain a visa or would like more information then please give us a call and one of our river cruising experts will be more than happy to assist.