Delightful Danube & Prague 2019 Uniworld River Cruise
Experience dynamic Budapest, imperial Vienna and exquisitely preserved Prague. Marvel at ravishing scenery as your luxurious ship glides through the Wachau Valley, celebrated as one of the world's most beautiful landscapes, into Germany and past charming Bavarian villages. Exclusive treasures are plentiful on this delightful journey. Be treated to Hungarian hospitality at Bodor Major horse farm on bucolic Szentendre Island in Budapest. While in Vienna, marvel at the Gustav Klimt paintings at the Belvedere. Partake in an exclusive insider's look at Prague's historic Estates Theatre with its exquisite jewel-box theatre, where operas are staged to this day, and listen to a short music concert composed by Mozart and his contemporaries in the Mozart Salon. Go behind the scenes at a BMW factory to get an up-close view of Germany's rich automotive heritage, and "Go Active" with guided hiking and biking excursions along the Danube. This enchanting voyage provides a variety of ways to enjoy captivating destinations as well as plenty of time to relax on board as you sail from Budapest to Nuremberg and spend two nights onshore in Prague.
European River Cruise Sale! Book by 31 December 2018 and save up to 30%* - included in the fares below!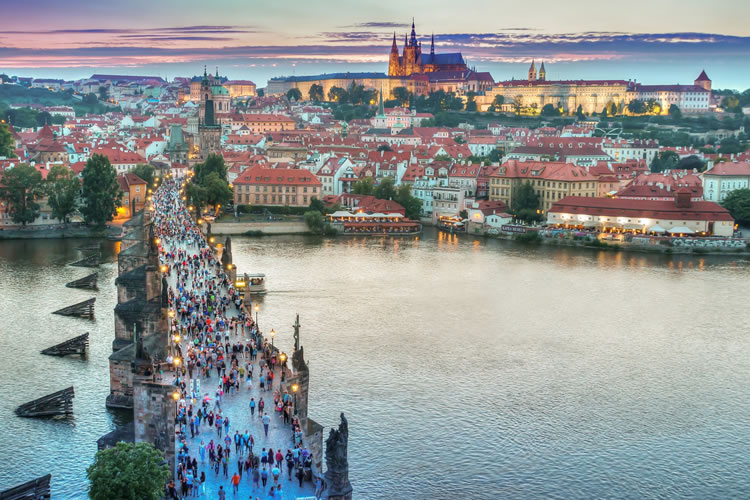 Price Guide
| Date | Price from (pp) |
| --- | --- |
| 01 May 2019 | £3,899 |
| 06 May 2019 (in reverse) | £3,799 |
| 15 May 2019 | £3,699 |
| 20 May 2019 (in reverse) | £3,899 |
| 12 June 2019 | £3,899 |
| 17 June 2019 (in reverse) | £3,799 |
| 26 June 2019 | £3,799 |
| 01 July 2019 (in reverse) | £3,599 |
| 10 July 2019 | £2,879 |
| 15 July 2019 (in reverse) | £3,799 |
| 24 July 2019 | £2,879 |
| 29 July 2019 (in reverse) | £2,659 |
| 07 August 2019 | £3,799 |
| 12 August 2019 (in reverse) | £3,899 |
| 04 September 2019 | £4,399 |
| 09 September 2019 (in reverse) | £4,199 |
| 18 September 2019 | £4,399 |
| 02 October 2019 | £4,199 |
| 07 October 2019 (in reverse) | £3,799 |
| 16 October 2019 | £3,799 |
| 21 October 2019 (in reverse) | £3,199 |
| 30 October 2019 | £2,999 |
What's Included
Save up to 30% when you book by 31st December 2018*
Return London Flights, other regional airports may be available at a supplement.
2 nights in Prague at the Art Deco Imperial Hotel (or similar) with breakfast 
All transfers on arrival and departure days
All gratuities, both onboard and onshore
Unlimited beverages onboard, including fine wine, beer, spirits, soft drinks, specialty coffee and tea, and mineral water
Services of an experienced Uniworld Cruise Manager
All meals onboard, prepared using the finest and freshest ingredients
Free Internet and Wi-Fi access
9 breakfasts, 6 lunches, 7 dinners
Welcome and Farewell Gala Dinners & Captain's Welcome and Farewell Receptions
7 days of excursions, including "Choice Is Yours" options, all fully hosted by English-speaking local experts
Guided "Let's Go" and "Do as the Locals Do" programs
State-of-the-art Quietvox portable audio-headset system on all excursions
Use of bicycles and Nordic walking sticks
4 countries: Austria, Czech Republic, Germany, Hungary
5 UNESCO World Heritage sites
Cultural enrichment, including a Signature Lecture: "Main-Danube Canal: History of an Engineering Milestone"
Exclusive Generations Family-Friendly Programme on select summer departures