Sikkim & Brahmaputra Far Horizon River Cruise
Your pre-cruise tour will take you around Kolkata, before you visit Gangtok and Darjeeling. With the Himalayas as your stunning backdrop, you will be able to take advantage of some stunning views during your time in Darjeeling. Tiger Hill is famous for offering fantastic vistas over the surrounding area and it is here where you will get to experience an impressive sunrise.
Once you meet with MV Mahabaahu, it's time to start your relaxing cruise along the Brahmaputra. As you enjoy excellent wildlife spotting opportunities and the chance to meet some of the local people that live along the river banks, there will be so much that leaves a lasting impression on you. Whether it's a potential sighting of a tiger in the Kaziranga National Park, the delight on the faces of the Mishing People when you pay their village a visit or the long process which you will learn goes into bringing tea from the plantations to your mug, there will be so many memories to share when you return home.
Save up to £680pp on selected departures if booked by 31st May 2018*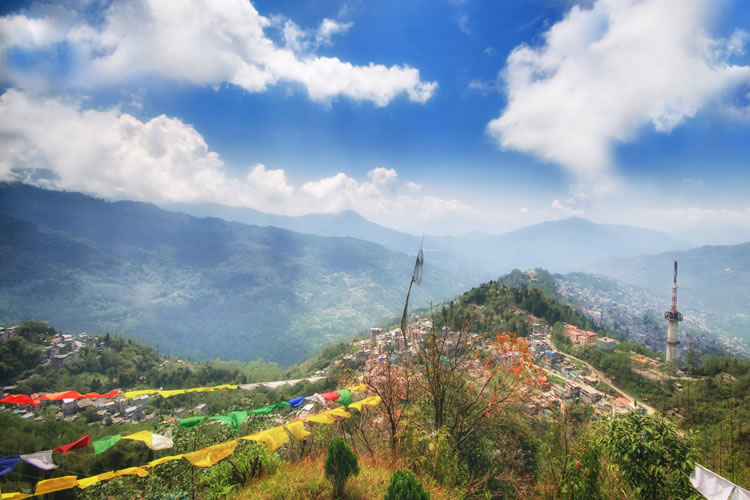 Price Guide
| Date | Fares from (pp) |
| --- | --- |
| 22 September 2018 (upstream) | £3,579 |
| 06 October 2018 (upstream) | £4,039 |
| 20 October 2018 (upstream) | £4,039 |
| 24 November 2018 (downstream) | £4,139 |
| 01 December 2018 (upstream) | £4,039 |
| 08 December 2018 (downstream) | £3,669 |
| 15 December 2018 (upstream) | £3,579 |
| 05 January 2019 (downstream) | £3,949 |
| 16 February 2019 (downstream) | £3,949 |
| 23 February 2019 (upstream) | £3,859 |
| 16 March 2019 (downstream) | £3,949 |
| 23 March 2019 (upstream) | £3,859 |
| 30 March 2019 (downstream) | £3,949 |
| 06 April 2019 (upstream) | £3,579 |
| 13 April 2019 (downstream) | £3,669 |
What's Included
Save up to £680pp on selected departures if booked by 31st May 2018*
Return London flights and internal flights
Non UK transfers
4* hotel stay in Kolkata, Gangtok and Darjeeling
7 nights aboard the M.V Mahabaahu
Life enriching tours and excursions
Buffet breakfast & lunch on board
A La Carte dinner during the cruise
Complimentary tea, coffee and bottled water during the cruise
Luxurious air conditioned cabins on board