Ship Name: MS Nizhny Novgorod
MS Nizhny Novgorod, perfectly encapsulates the traditional heart of Russia.
Specifically built to sail the magnificent Russian waterways, MS Nizhny Novgorod is a comfortable and traditional river ship, and the perfect base from which to explore the remarkable charms of Russia.

Refurbished during 2019, MS Nizhny Novgorod offers a friendly on board atmosphere, along with a superb selection of on board amenities, including two restaurants, two relaxed bar areas and a solarium and sauna – the ideal spot to relax after a busy day exploring. You will also find an ironing room and a small souvenir store on board.
Suite (A)
---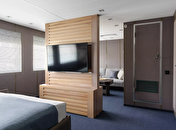 Large window
King-size bed
Bathroom with shower
Separate bedroom and lounge area
TV and radio
Refrigerator
Air conditioning
Safe for your valuables
220-volt sockets


Double Deluxe Cabin (B)
---
Large window
Queen-sized bed
Bathroom with shower
TV and radio
Refrigerator
Air conditioning
Safe for your valuables
220-volt sockets
Double Deluxe Cabin (C)
---
Large window
Queen-sized bed
Bathroom with shower
TV and radio
Refrigerator
Air conditioning
Safe for your valuables
220-volt sockets
Twin Deluxe Cabin (D)
---
Large window
Twin single beds
Bathroom with shower
TV and radio
Refrigerator
Air conditioning
Safe for your valuables
220-volt sockets
Food and Drink
Bar, Restaurant,
Other
Conference Room,
Relaxation
Solarium,
Boat Deck

User Photos
No one has uploaded their images of the MS Nizhny Novgorod yet