The Viking Danube River Cruise Experience
Having just returned from 4 nights on board the Viking Rinda it is safe to say we had a fantastic time! We started in Budapest and continued along the Upper Danube until we reached Passau where it was time for us to say goodbye to the charming Viking Rinda!
Arriving in Budapest
We landed in Budapest, collected our luggage and headed towards the arrival hall where we were greeted by a very friendly Viking representative. Having checked we had all arrived safely she then rang our coach driver asking him to meet us at the pick-up area. After just a couple of minutes we were led to the coach, which was awaiting our arrival just outside of the terminal. Viking have their own branded coaches in all major cities – they are modern and comfortable - a nice touch to the journey! The driver very kindly loaded our luggage onto the coach and when everybody was sat comfortably the rep handed out cool bottles of water and a fresh hand wipe before we swiftly departed from the airport! From Budapest airport to the ship (in good traffic conditions) it took approximately 30 minutes.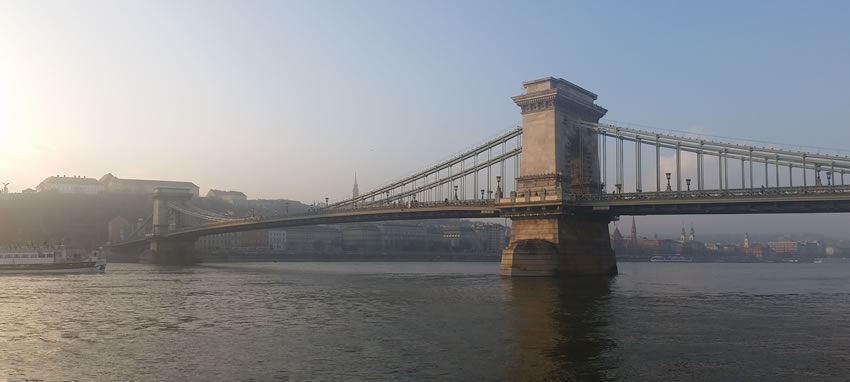 As we arrived at the ship we were greeted by pleasant Viking staff and directed towards reception where we were to check-in and be shown to our staterooms! Our luggage was loaded off the coach by Viking staff who kindly brought it to our stateroom just moments after we had checked in! (Be sure to fill in your luggage tag before it is loaded onto the coach to ensure your suitcases are brought to the correct stateroom).
After a quick lunch and a swift beer we headed out for a stroll through the centre of Budapest as we knew we would be short of time the day after (because we were taking the City Tour) – What a beautiful city! The architecture is stunning! There was a small Christmas market set up which we couldn't help but have a mooch around and of course we couldn't resist a taste of their local hot Palinka (strawberry flavour) – a traditional fruit brandy – it definitely warmed us up that's for sure!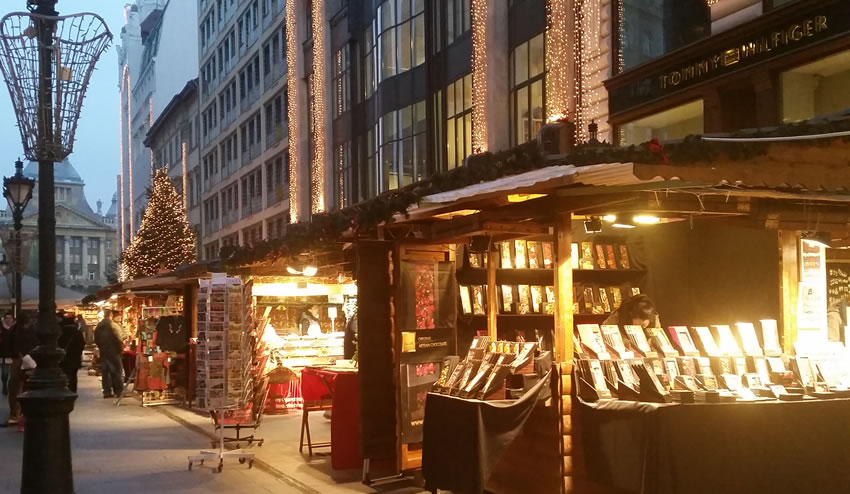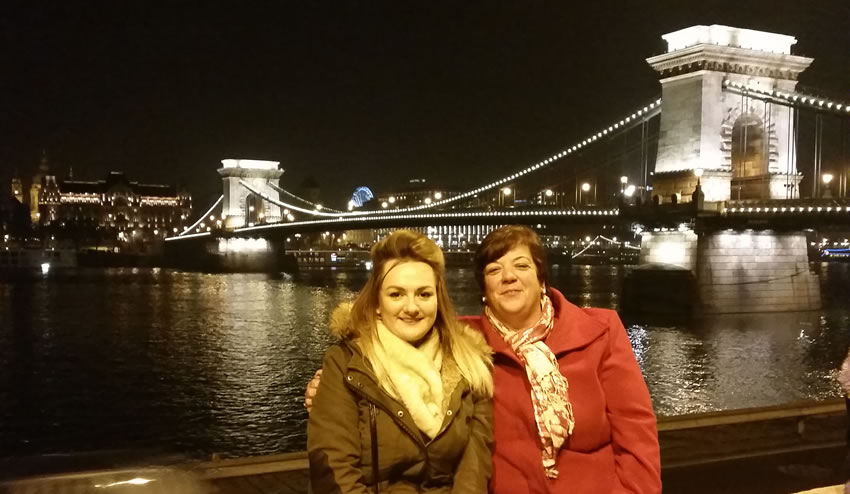 Back on board it was time for a shower before Cocktail Hour and the Welcome Briefing – although not top of our list of things to do, we did attend the daily briefings as we found them very useful in terms of information for the following days itinerary!
Dinner was delightful! In fact, we have no complaints regarding any of our meals – each night was fantastic!
Day Two – Budapest City Tour
After an overnight in Budapest we had an early start for an 8am City Tour (the earliest start of the week – but definitely worth it). The tour included visiting highlights of both Buda and Pest, including the Parliament building, Opera House, Hero's Square, the former Royal Palace of Hungary and finishing the tour in the Castle District! The tour was very interesting, the guide (George) was great – full of information about the city and its history – If you had a question, he knew the answer!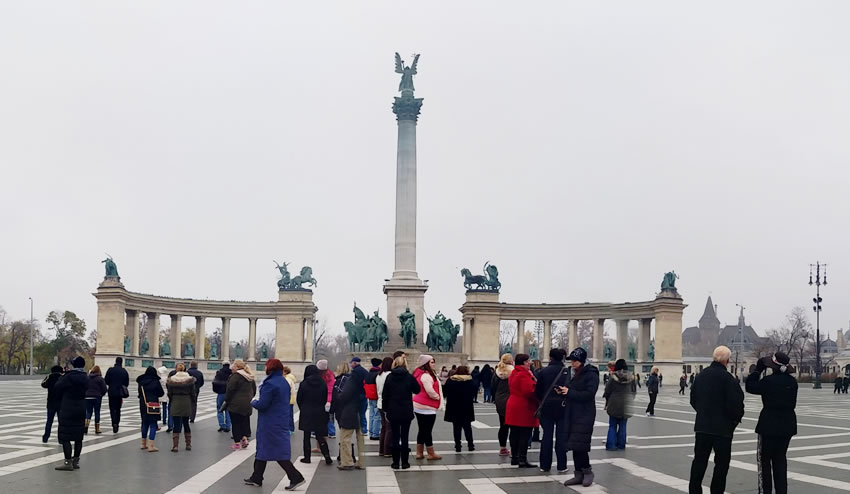 What makes the tours even better? The headsets! For every tour, remember your headsets (found in your stateroom). They are a little box with an ear piece – they enable you to listen to the tour guide very easily through the ear piece, rather than trying to stay close to the tour guide struggling to hear what he/she is telling you!
We were offered bottles of water each and every time we left the ship for our excursions and a cup of mulled wine or hot chocolate upon our return – a very nice touch!
While we were on the city tour the ship had sailed further down the Danube in order to catch up on time & ensure we arrived in Vienna in good time the next day. After the city tour the coach drove us 45 minutes to meet Viking Rinda in Visegrad where we were to cast off at 12:30pm. (Please bear this in mind if you choose not to take the City Tour – because the ship left Budapest at 8:30am and arrived in Visegrad at 12:00pm – check your itinerary!)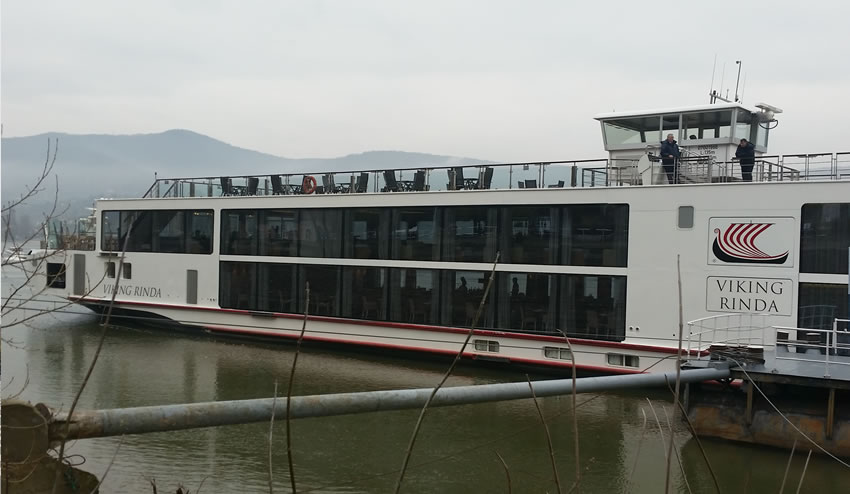 After a much needed lunch in the restaurant and a quick safety briefing it was time to relax while we sailed smoothly along the Danube towards Vienna. A great opportunity to wrap up warm (if you're cruising in the winter like we were) and take some photos from Sun Deck! We filled our free time this afternoon by playing Scrabble in the lounge followed by a presentation on Vienna's Coffee Houses before returning to our staterooms to prepare for dinner.
Day Three – Vienna
Our second excursion was arranged for the morning we arrived in Vienna, the beautiful city of music! We were particularly excited about today because neither of us had visited Vienna before. We were particularly lucky with the weather this day – the sun was shining in all its glory and we were extremely grateful as today's excursion involved an hour of walking (but don't let this put you off – it was a very steady walking pace!)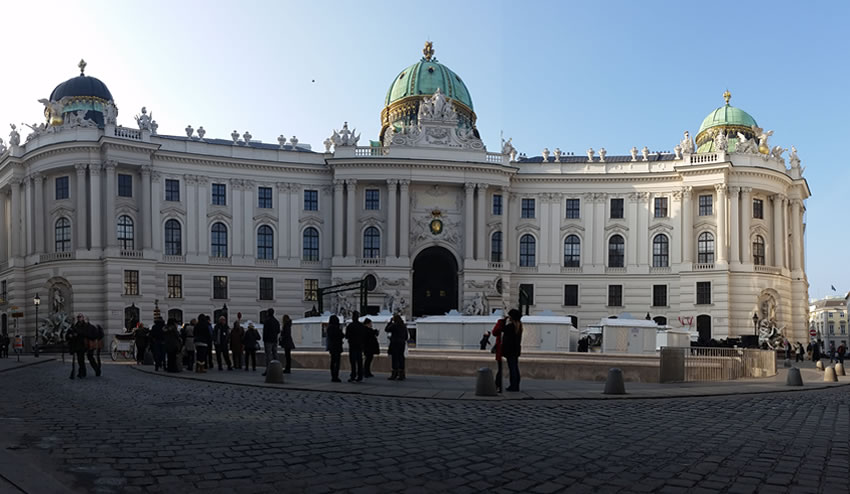 There was in fact a couple of options for the excursion in Vienna, the regular tour which involves an hour on the bus and an hour walking or the second option was a slower and more in-depth tour which is a full walking tour of the city! We chose the regular tour and thoroughly enjoyed ourselves, the walking half of the tour guided us from the Hofburg Imperial Palace, past the Spanish Riding School and through the city towards St Stephan's Cathedral where we were given an hour of free time! Vienna is absolutely stunning, filled with gracious architecture.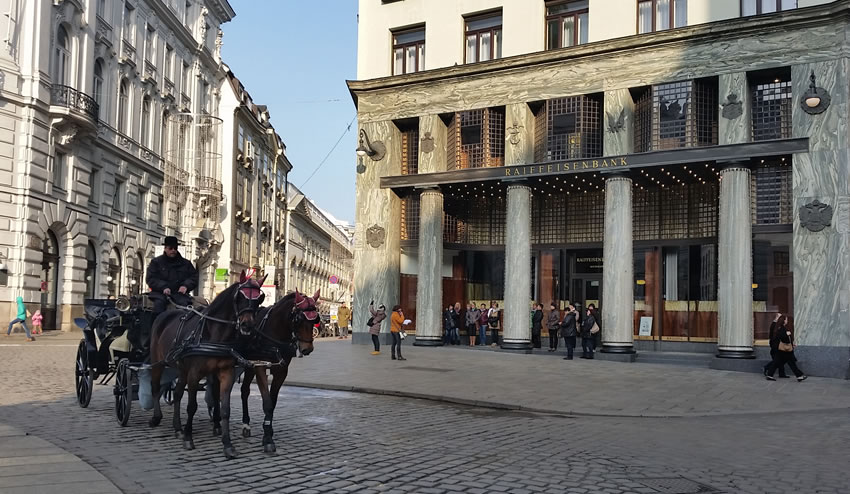 After popping back on board for a quick lunch we wrapped up warm and took the complimentary shuttle to the City Hall Christmas Markets & what a marvellous atmosphere there was here! If you are a lover of Christmas Markets, this has to be one of the best I've seen!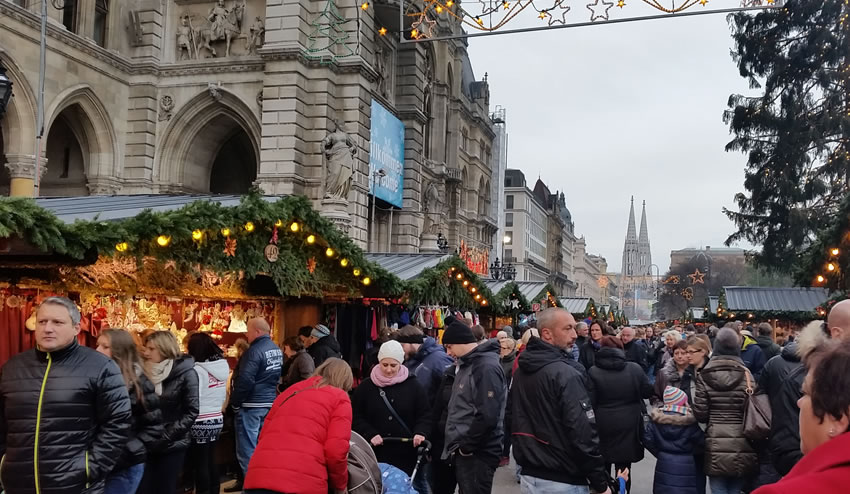 This afternoon the hotel manager kindly showed us around the different Stateroom Grades. Although the staterooms are not the largest on Europe's waterways, all of the staterooms were lovely, modern and comfortable! It was surprising to hear that the lowest-fare outside cabin (with a window) is slightly bigger than the French balcony grade of cabin, however it wasn't very noticeable! Below is a Balcony Stateroom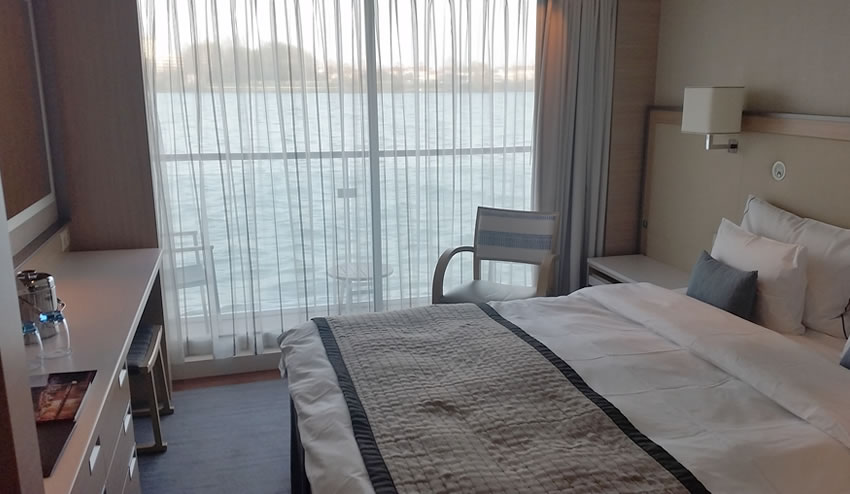 Day Four – Wachau Valley & Melk
We woke to superb views along the Danube this morning as we entered the Wachau Valley. I was keen to wrap up warm and get on top deck for the perfect photo opportunity! Unfortunately the sun wasn't out, but the views were still extremely impressive!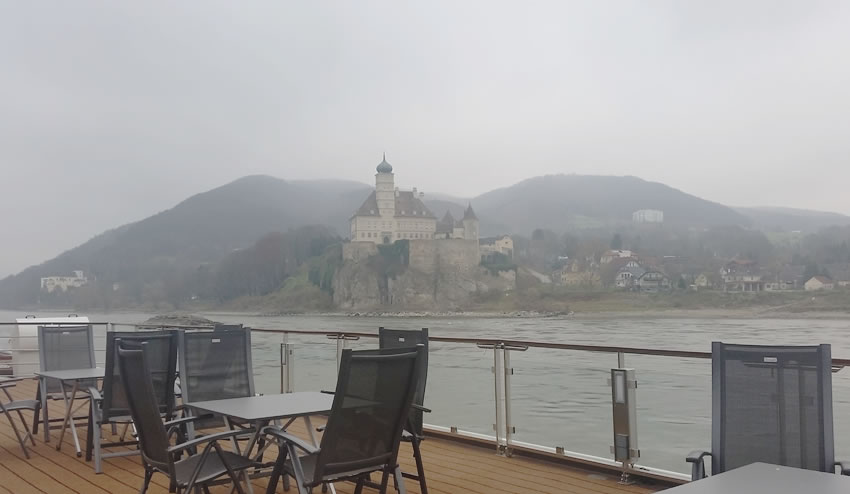 As we exited the Valley and approached Melk it was time for an early lunch as the excursion started at 12:30pm.
Melk is a pretty little village, it did feel like somewhat of a ghost town as there was nobody around as we strolled through the village but the views from the top are outstanding!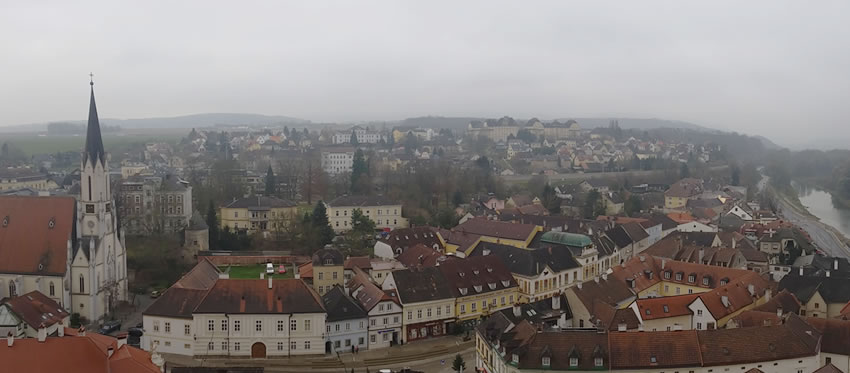 This afternoon we departed Melk at 3:15pm (sadly a couple of passengers were late back to the ship & had to meet us in Passau the following day). We filled the afternoon with a game of Shuffle Board on Sun Deck – highly amusing considering we were new to the game and might I add, completely useless too!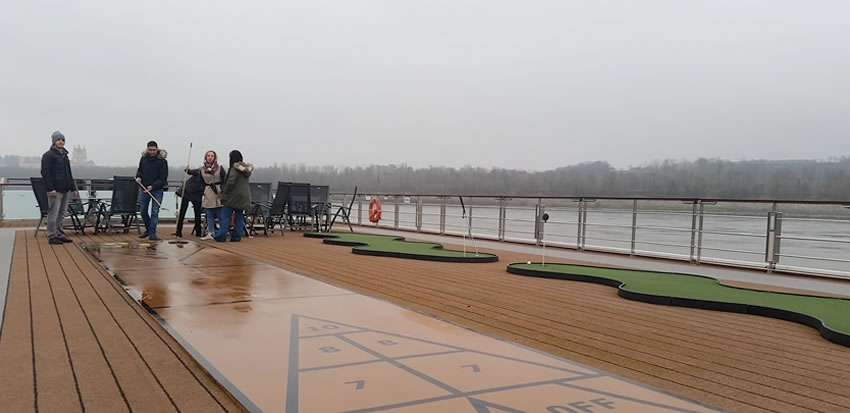 This evening was Austrian Themed Night & what an experience this was! The night began in the lounge where we were offered all flavours of Schnapps, we then proceeded to the restaurant where there was a variety of options on the buffet for your starter and we were invited into the Galley where your main course could be found!
Departing from Passau
As we arrived in Passau it was time to pack up and leave the ship at 11:30am. We placed our luggage outside of our stateroom (before 10:00am) and from there we did not see it until we arrived at our departure terminal at Munich airport.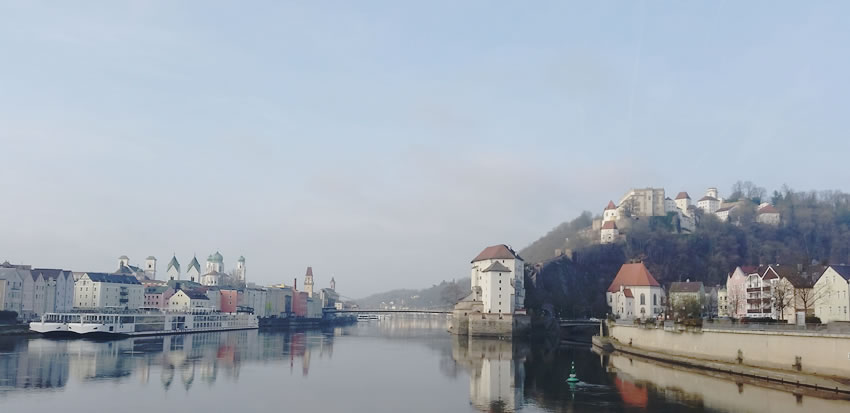 From start to finish, we were very impressed with Viking's organisation! Everything was on schedule and ran as smoothly as it possibly could have done! The staff were brilliant, they couldn't do any more for you!
Although the two of us finished our trip in Passau, a couple of our colleagues joined Viking Rinda in Passau to continue the final days of the itinerary through to Nuremberg.
The second leg of the cruise....Arriving in Passau
After a smooth flight and a comfortable coach journey to Passau, we arrived at the ship where our luggage was loaded off the coach and taken straight to our stateroom.
We were checked in very quickly and efficiently - within 5 minutes we were in our cabin. After a quick freshen up we made our way to the dining room for Lunch – Fantastic choice of food, both on the buffet for ours starter and on the menu for our main course! Each meal was excellent and the Viking staff were really attentive.
After Lunch we had an hour to do your own thing in Passau before leaving to our next destination Regensburg.
We found 2 drinks machines (located outside of the lounge) very useful - you can help yourself to an endless supply of speciality coffees, tea and hot chocolate, as well as a variety of cookies and pastries!
We set sail for Nuremburg this afternoon passing through 11 Locks on the way – which meant that Sundeck was out of bounds for the rest of the journey. They often flatten the furniture and lower the Wheelhouse to fit under low bridges and navigate the locks safely.
This evening we headed to the bar for cocktail hour and the daily briefing for details for the following day. The entertainment for the evening began after our meal – the Cruise director, George, entertained us with his singing all evening – it was great fun, he had all the guests up and dancing.
Day Six – Regensburg
We arrived in Regensburg early and after our breakfast (which was buffet style with a great choice for everyone) we got ready for our 9am tour – there was a choice of tours this day which meant 5 separate groups were leaving to do different tours – it was very well organised. We found the Audio headsets fantastic – especially because you could stroll leisurely behind and still hear the guide. The tour lasted roughly 2 hours, the guide was extremely informative. It wasn't a long stay here – we were due to leave Regensburg, one of Germanys best preserved medieval cities, at 12.45. There was an option to stay longer in the city for 5 hours with a free coach transfer to Kelheim (our next stop) but we chose to get back on board for lunch. One thing I would say is that once you are back onboard there isn't a lot to do – there is sometimes an afternoon presentation & many choose to relax with a drink in the lounge.
After lunch we had free time and chose to take advantage of what Viking Rinda had to offer – The lounge is very relaxing and informal PLUS there is full visibility of the river banks through floor to ceiling windows! - The scenery is amazing. All staterooms have a flat screen TV with various channels and we certainly took advantage of the movie channel. When we arrived at Kelheim all passengers who had the extended time of the coach arrived on time and we promptly set sail through the main Danube Canal on route to Nuremberg for an overnight sailing.
This Evening was The Captains Farewell Reception & Dinner where we met all the staff who were looking after us. The evening again was very well organised and relaxed.
Day Six – Nuremberg
We woke up to a nice leisurely start to the day as the tours were not departing untill 11:00am. From a variety of options I had selected the World War 11 tour. I was quite excited to pick this 4 ½ hour tour as I didn't know what to expect. The tour included visits to Most of the Nazi Propaganda Sites including the Nazi Party Rally Grounds (very strange to be stood where Hitler had been), where over 160000 people had stood and listened to Hitler's dream. We then visited the Congress Hall (built in the style of a Roman Coliseum) and then to the Museum. We were then very lucky to be allowed in to the courtroom 600 at Nuremberg – famous for the Nuremberg Trails. After the tour we had half an hour in the beautiful city of Nuremberg – Unfortunately we were a day too early for the Christmas markets. This tour is a must it certainly puts things in to perspective and should never be forgotten.
We arrived back to the ship late and had half an hour to get ready for our last evening meal on board Viking Rinda – As it happens it was Thanksgiving and because the ship had a vast amount of American guests on board we had a traditional Thanksgiving meal - which again was fantastic. After Diner the entertainment was a trio of opera singers who were excellent.
I happened to miss the debriefing because of our delay on the tour - but we had all the information we needed for disembarking the ship and all our details were left in or cabin for ease of departure.
Disembarking in Nuremberg
After an overnight in Nuremberg our bags had to be outside our cabin for 8:30am with the Viking label attached for staff to recognise our luggage. We were due to leave at 11:30am but due to a technical fault with the coach we didn't leave till 12:10pm. Again Viking impressed us with their organisation – they informed the Viking Rep at the airport about the delay who sorted things out with Lufthansa, as we had a 2 hour journey and just made check in.
We had a wonderful time, we enjoyed all of the tours and thought the ship was beautiful! We have returned from our trip very impressed with Viking!
---
Would you like some top tips for your first river cruise? Click Here
Which do we believe to be the best river cruise line? Find out what we think here!
Think I've missed something or want to know more? Leave a comment, let me know!
---
Come back soon. Jess Nuttall - RiverCruising.co.uk