5 Days Onboard Scenic's Scenic Jasper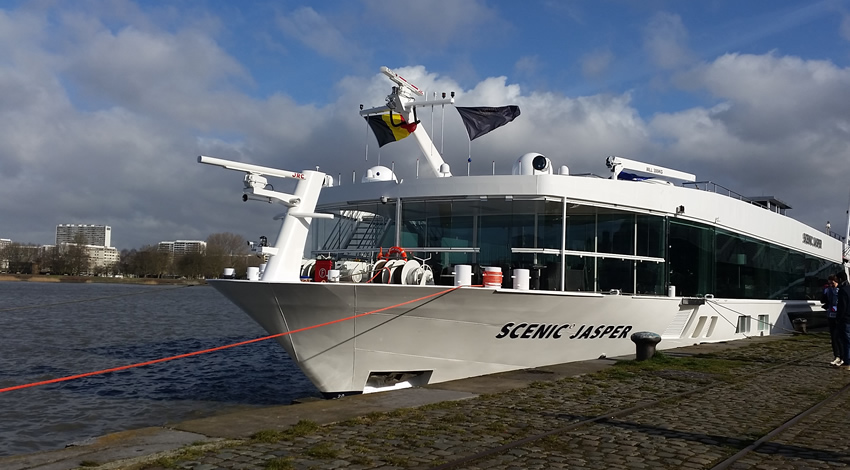 Scenic Tours have just launched their newest 'space-ship', Scenic Jasper, and myself and Leanne were fortunate to be amongst the first on board for her pre-inaugural sailing… I have to say, we have returned having had a wonderful time and feeling very impressed with Scenic Tours!
Arrival
From the moment we arrived in Amsterdam we were truly looked after; we collected our luggage and made our way into the arrivals hall where a friendly Scenic Rep was waiting to greet us – we couldn't miss him, he had a clearly marked Scenic Tours sign in hand. After waiting just a few moments for more passengers to arrive we were lead outside to the coach, our luggage was loaded and we sat comfortably for our estimated 20 minute transfer to the ship, Scenic Jasper.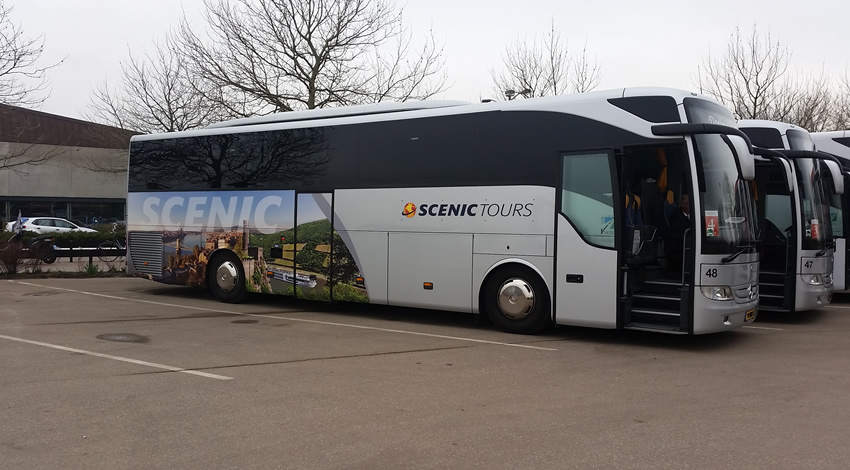 Please be aware that when you arrive at the ship your luggage will be taken straight to your stateroom for you – so remember to put your Scenic Tours luggage label onto your suitcases before it is loaded onto the coach.
Once aboard we were free to check straight in or head into the lounge for a drink and a snack. We chose to make our way into the lounge for a light lunch and a drink before heading to reception to check-in.
Staterooms
After a very quick check-in we were very kindly lead to our staterooms and briefly shown where certain appliances were, such as the safe, the bathroom and the mini bar - before being left to settle in.
Of course, I took this opportunity to take some photos of my stateroom before I unpacked.
I was in a Deluxe Balcony Suite, PD Grade. The room was great… nice and spacious, the décor is modern (as you can see in the photos below). The bed was super comfy plus there is plenty of storage space! After all… it is a Scenic Space-Ship – named for their innovative use of space and for having the most space per passenger on Europe's waterways!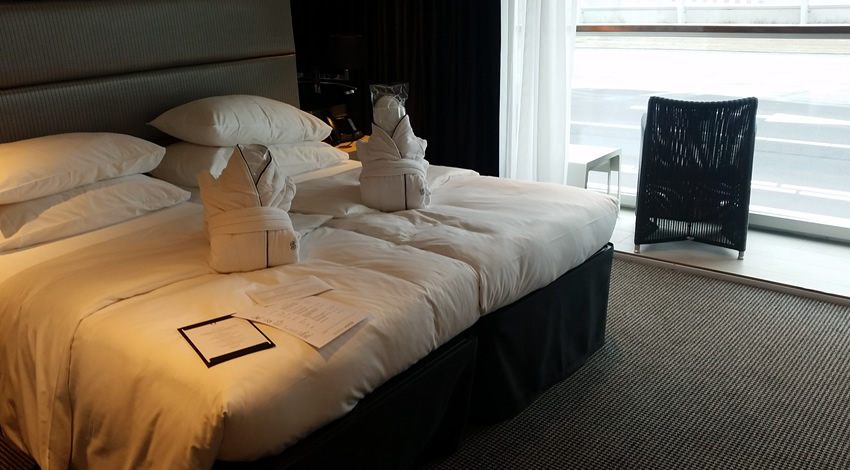 The bathroom is lovely, again there is plenty of storage space! The towels are nice and soft and there is a charming set of toiletries (which are restocked each and every day!). The shower is awesome, in this particular grade of cabin the shower has different functions including a waterfall effect and lights that change colour (perhaps a gimmick, but I certainly enjoyed it).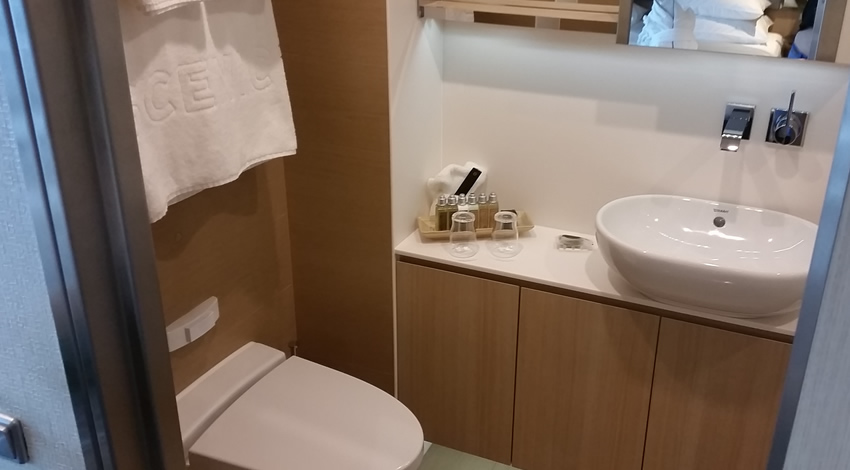 The shower was not the only impressive feature - each stateroom is fitted with an Apple infotainment system, connected to the TV this system provides music, films, internet, tv channels and a live cam feed of the lounge or the view from the front of the ship PLUS a nice little extra… a function that turns the TV screen into a crackling fire place.
The balcony is not just any standard balcony! First of all… you have a glass veranda, separating the balcony area from the stateroom – this can be opened or closed! And then there is the balcony itself… you can have it open or closed; controlled by a switch on your wall, the balcony window moves up and down! Even when it's closed, you're provided with panoramic views!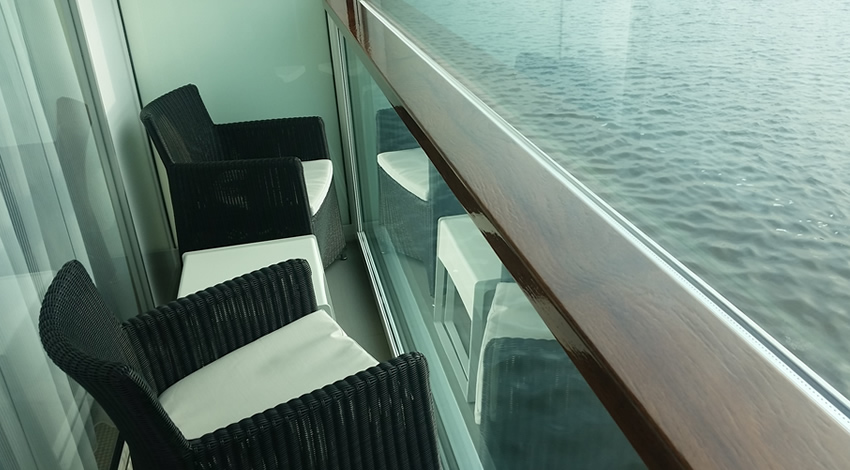 As you may already know, no matter which stateroom you are staying in, you will have a personal butler. They are literally just one phone call away to serve you complimentary drinks, a valet service and shoeshine polishing if requested….amongst other added benefits. Although your butler is generally available from 6am until 11pm, room service is available 24/7 and there is always somebody at reception to assist you with anything you may need.
Public Areas
Scenic Jasper is a beautiful ship, she has been fitted with modern amenities and contemporary décor throughout.
Let's start with the Panorama Lounge & Bar… where we spent most of our time on board. Here you will find the main bar area, comfortable seating and a fantastic coffee machine also with tea making facilities.
Towards the back of the lounge, on one side of the bar is the River Café. The River Café is stocked with light snacks right up until 6pm, and is also used to provide a late breakfast each morning, for those who prefer a later and smaller breakfast.
The Crystal Dining Restaurant is located on Sapphire Deck (Deck 2). Here they serve breakfast, lunch and dinner… and what a fantastic selection there was to choose from each and every day!
For breakfast there was a buffet laid out each day, with a selection of fruit, yoghurt, porridge, hot breakfast and an omelette station.
For lunch, again it was a buffet each day. There was always a good choice - on one side a great selection of salad and on the other side, a choice of hot foods, including vegetables, potatoes, pastas, fish, meats etc etc… PLUS at the back - my favourite part - a selection of deserts!
For dinner it was full table service for a four course meal. I must admit I thoroughly enjoyed each and every meal and the service we received in the restaurant was great! As you may know, the restaurant on board is open dining, there are no assigned tables – you are free to sit where you like each night – this gave us chance to mingle with fellow passengers, meet new people and make new friends!
Moving on to the remaining public areas on board… on Jewel Deck is a Fitness Centre, Hairdressers and Massage Room – we didn't use these facilities but on a tour of the ship we did get a couple of photos. As you can see, the gym is small but equipped with a treadmill, rowing machine, bike and a cross trainer (Ide say a good selection for those who like to exercise each day).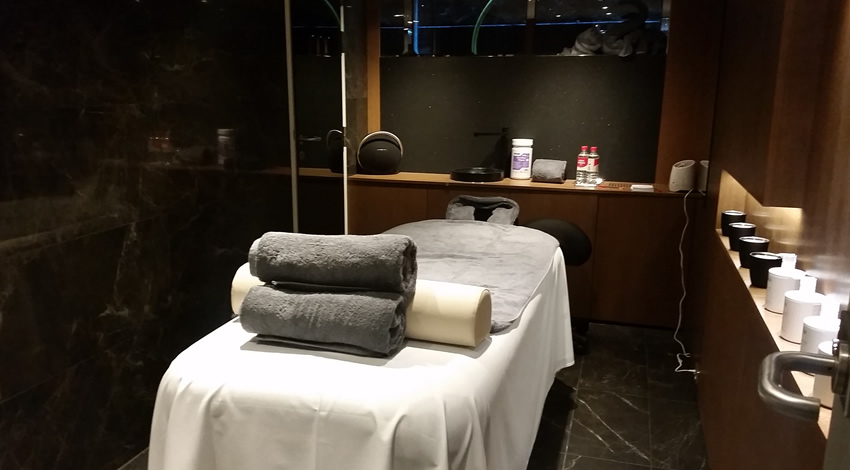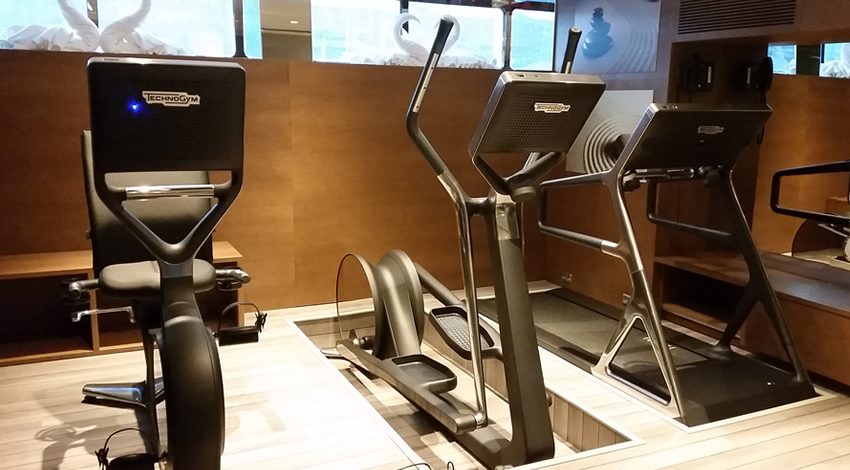 Sun Deck has a fantastic range of sun chairs, some positioned in the shade, and others out in the open. One key facility up on top deck is the Vitality Pool, a heated small pool which bubbles similar to a whirl pool – although we didn't try the pool out (because of poor weather), I did dip my hand in and it felt nice and warm!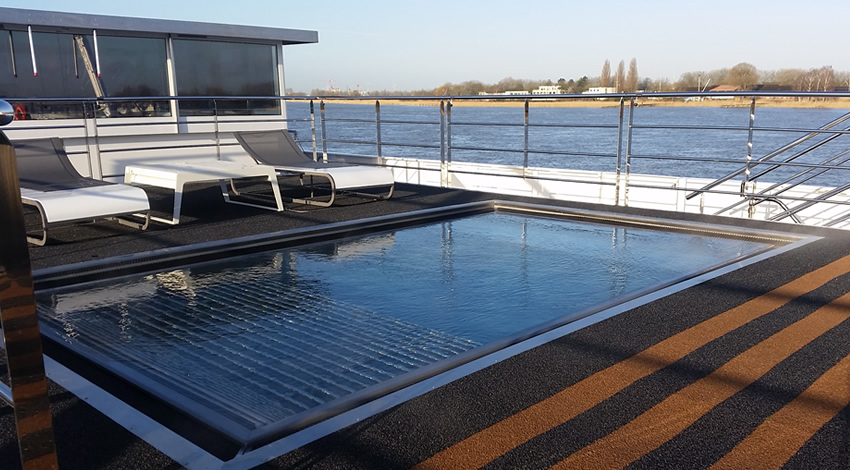 Scenic FreeChoice Excursions
The most important thing to know is that the excursions provided are not compulsory nor do you pay extra for any of them! Everything is included with Scenic! What's great is that you are usually offered a choice of excursion for each port of call.
Along the way we visited Amsterdam, Antwerp and Hoorn and of course took part in an excursion at each destination.
In Amsterdam we chose an excursion to Zaanse Schans, to see historic windmills, the production of clogs and sampled some locally produced Dutch cheese. It was roughly a 40 minute journey to our first stop at the cheese factor, in the country side of Amsterdam, but from their just a short journey to the Windmill town. The tour guide was great, full of knowledge with a good sense of humour!
In Antwerp we took a walking tour of the beautiful city, exploring the cities impressive sights such at the cathedral and old town. In complete honesty, our tour guide was not the best – she showed us the key sights but did not explain them very well. In fact, half way through the tour we noticed another group walking past and switched to join this group – from here, the tour improved massively and it was thoroughly enjoyable!
Our final port of call was Hoorn… except we couldn't actually berth in Hoorn – through no fault of Scenic's, there was a fault with a lock that we needed to transit in order to reach Hoorn by river. Unfortunately the lock was not going to be repaired in time for us & so we were diverted back into Amsterdam. This however, did not stop us from getting to Hoorn. The team on board were extremely organised and arranged for 2 coaches to take every passenger to Hoorn.
Sadly, we were unable to go on the cycling tour of Hoorn, which we had chosen as our excursion for the day. But there were extra tour guides arranged for the walking tour of the city, which many decided to go on instead. We decided to have some free time in the afternoon and take a leisurely stroll through Hoorn, followed by a beer and a snack in a local pub.
The evening that we were in Hoorn there was a Scenic Dining Experience arranged. This involved every passenger on board having dinner in a local church which was hosted by the locals of Hoorn. I have to say, it was definitely an experience I will always remember, it was very interesting and lovely to meet some of Hoorn's residents.
Departure
Our departure was just as smooth as our arrival; we were asked to put specific luggage tags onto our cases (which were left on our bed for us) and put our cases outside of our stateroom half an hour before departure. When we disembarked, our luggage was sat on the port side – we showed a staff member which was our case and it was loaded onto the coach.
Our cruise director left us with these words… "Don't be sad that it has ended, be happy that it happened".
What a fantastic time we had on board the beautiful Scenic Jasper – I found no faults with the service we were provided throughout, the staff were brilliant (they had a great sense of humour – which they showed to us in a staff talent show one evening)!
I certainly would travel with Scenic Tours again in the near future!
---
Watch this video below for a glimpse of what Scenic Jasper has to offer!
Come Back Soon. Jess - RiverCruising.co.uk