Avalon Waterways Crème Brûlée Recipe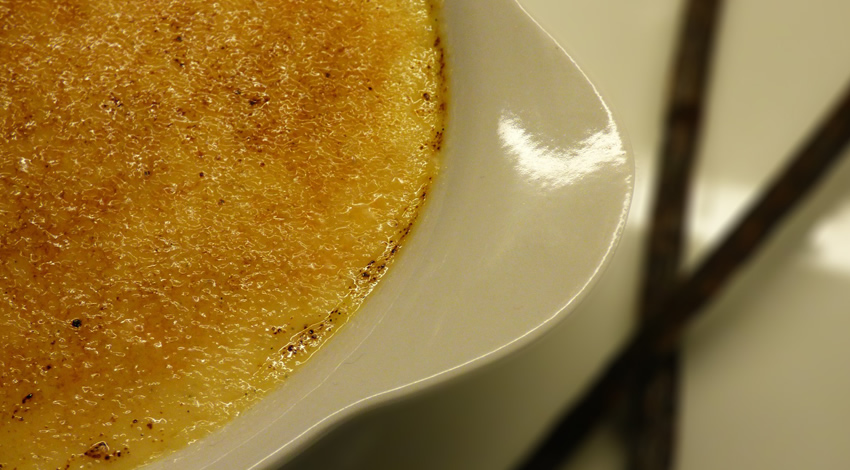 Do you love Avalon's Crème brûlée as much as i do?
Why not try making it for yourself with this list of ingredients and step-by-step guide!
Ingredients
1 cup (250 ml) milk
1 cup (20 ml) cream
4 oz (125 g) sugar
6 eggs (separated)
1 vanilla pod
2 oz (50 g) brown sugar
Preparation and Cooking Directions
Pour the milk and cream into a saucepan, split the vanilla pod length-ways, and scrape the pulp into the mixture. Stir well. Preheat the oven to 257°F (125°C). Bring the milk mixture slowly to a boil. Meanwhile, mix together the egg yolks and sugar in an oven-proof bowl. When the milk has reached boiling point, pour it into the egg-yolk mixture, stirring all the time. Place the bowl containing the custard mixture in a bain-marie, and then put it in the preheated oven. Bake for about 35 minutes, remove from the oven, and allow to cool before placing the custard in the refrigerator. When the custard is cold, sprinkle brown sugar over the top, and use a kitchen blowtorch to caramelize the sugar topping.
---
Let us know how yours tasted in the comments below!!
Is there another river cruise dish that you would love to try cooking yourself? Let us know in the comments and we will do our best to provide the recipe!
---
Enjoy Cooking. Jess - RiverCruising.co.uk