Reasons to Choose an Avalon Waterways River Cruise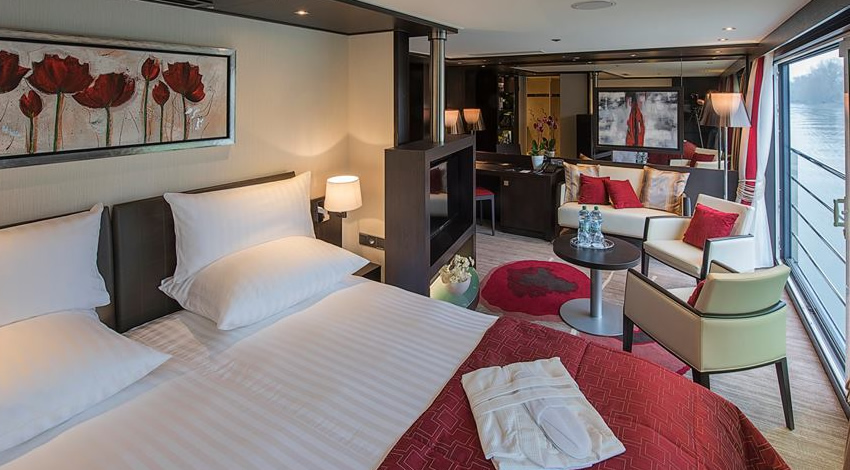 Why choose Avalon Waterways for your next river cruise?
River cruising has increased in popularity dramatically over the past 5 years, and with that comes new cruise lines and new ships! So how do you know which to choose? It's difficult to differentiate between cruise lines, especially when you're new to the whole concept of river cruising!
If you're wondering what's so great about Avalon Waterways, you've come to the right place! We have provided the main highlights of an Avalon Waterways below!
Their Fleet
Avalon Waterways have the youngest fleet of ships in the industry with an average age of 3 years old – and they are still adding more!
Most impressive in their fleet are their Suite Ships - Revolutionary to river cruising, these contemporary ships are designed with great attention to detail with smart use of space and never seen before accommodation!
Accommodation
Avalon Waterways have always offered the most spacious staterooms on Europe's waterways and their Suite Ships are no exception to this – in fact their unique Panorama Suites found onboard their Suite Ships are an astonishing 30% larger than a standard cabin of many competitors! PLUS there are plenty of Panorama Suites available as 80% of the cabins onboard an Avalon Waterways Suite Ship are Panorama Suites which are a spacious 200sq ft.
What's so great about Avalon Waterways' Panorama Suites? Let's start with their awesome floor-to-ceiling, wall-to-wall panorama window – almost 11ft wide, that's 4ft wider than the average stateroom window of competitors! PLUS it opens a full 7ft wide, bringing the outside in, transforming your cabin into an open-air balcony – WITHOUT taking space away from the inside of your cabin! AND there is plenty of storage space!!
A standard cabin on alternative river ships is roughly 150sq ft. and when you upgrade to a French Balcony cabin your stateroom is reduced to roughly 135sq ft. – taking space away from your cabin to provide you with a balcony!
It gets better…. In an Avalon Waterways Panorama Suite your bed is angled to face the window – where else can you lie in bed and watch the beautiful scenes along the river banks pass you by through a large panorama window? PLUS each and every stateroom is fitted with sound dampening insulation, keeping the neighbours noise out, and your noise in!
Capacity
Okay so I've told you about their larger staterooms. Well there is more good news – Larger staterooms equals less staterooms onboard which in turn means there are less passengers onboard and ofcourse, less passengers means more space per passenger (15% more space)! And to top that off… less passengers leads to remarkable customer service (or at least with Avalon Waterways it does)!
Destination
Many believe a river cruise is all about the destination and Avalon Waterways have catered to this very thought – Amongst their itineraries is a variation of unrivalled and exciting destinations! You can view Avalon Waterways' latest deals here
Excursions
Traditional Sightseeing, Leisurely Sightseeing, Essential Sightseeing – yes, there is a difference! Avalon Waterways cater to every need and understand that not everybody would like to see the world in the same way. These three options enable you to explore each destination at a pace that best suits you! And not only do you have various options – Avalon Waterways offer VIP access to must see sights!

Traditional Sightseeing – "Led by a Certified Local Guide, you will explore a wide range of sights getting the most out of your day and seeing as much as you can."
Leisurely Sightseeing – "A Certified Local Guide shows you the destination's highlights in a relaxed and leisurely way without trying to cover everything that might be possible, leaving some stones unturned for another visit perhaps."
Essential Sightseeing – "This is an orientation overview that shows you the 'must-see' sights and leaves you with plenty of time to explore on your own."
Delightful Food
Okay, so most river cruise lines provide delicious meals – but do any other river cruise line have a local chef come on board each cruise to serve a special dinner made from fresh, local ingredients? Avalon Waterways do!
A Full Package
A river cruise with Avalon Waterways is a full package, there are no hidden costs – almost everything is included! But what makes Avalon Waterways stand out from the rest? Their executive home pick up service – yep that's right, if you choose to river cruise with Avalon Waterways they will take care of you from the moment you leave your front door! They provide a VIP chauffeur driven airport transfer, complimentary for those that live within 100 miles of the airport (for 2015 sailings onwards)! Find out more here
What's included in an Avalon Waterways river cruise?
Door-to-door home pick up service by private, executive car

Choice of excursions

Gratuities

All meals onboard

Wine and beer with dinner

Unlimited complimentary tea and coffee 24/7

Complimentary WiFi

UK flights (with applicable sailings)
Watch this video for an insight into life onboard an Avalon Waterways River Cruise!
---
Discover your next journey with Avalon Waterways at www.rivercruising.co.uk. Alternatively, call one of our river cruise experts on 0800 810 8229
Would you like some top tips for your first river cruise? Click Here
Think I've missed something or want to know more? Leave a comment, let me know!
---
Come back soon. Jess Nuttall - RiverCruising.co.uk