Home

»

Viking River Cruises Europe 2014
Viking River Cruises Europe 2014
Discover Europe in 2014 with award winning river cruise line Viking River Cruises. Book an amazing value 2014 European river cruise with RiverCruising.co.uk
To truly experience Europe, you have to travel its waterways. Cruise the Rhine, Moselle, Danube, Seine or Volga and you sail the same waters as conquerors, discoverers, artists and revolutionaries. The whole of Europe is yours for exploration. A Viking River Cruise lets you experience it in style.




2014 Viking River Cruises
Explore old imperial capitals like Budapest, Vienna and St Petersburg. Discover sights best seen from the river: tumbling vineyards, precarious fortresses and ancient cliff top monasteries. Encounter the people, tastes, culture and language of the villages that call the river their home. And anticipate a whole new day of adventure tomorrow. The rivers of Europe are Viking's world. From the moment you step onboard, it's your world too.
Just look at what's included on a 2014 Viking River Cruise;
Flights and transfers:

To take you to and from your river cruise. 

Deluxe rooms

: En-suite, hotel-style accommodation, always with river views.

Food & drink:

Locally inspired on-board meals, with dinner and lunchtime wines, beers and soft drinks all included in the price.

Guided tours:

In-depth exploration of the major attractions you'll visit on your river cruise.

Knowledge:

Every destination is more rewarding when you understand its history, culture and people. Viking river cruises do more to help you get under the skin of the places you visit.

PRICE GUARANTEE:

Once you have paid the deposit for your cruise, you are safe from any additional charges. Airfare increases, currency fluctuations, increased fuel surcharges, new government taxes-none of these will apply to you.
Because you're river cruising, there are no waves (and therefore no seasickness). And there are no long days at sea, so new discoveries are only ever around the next bend in the river.

Press Esc to close
Send an Enquiry
Enter your details in the boxes below giving us as much detail as possible. Our river team will respond to your questions as soon as possible.
Form error please check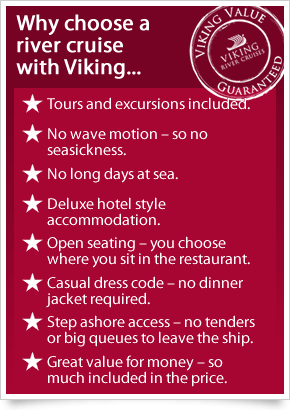 Viking River Cruises
Below you will find all Viking River Cruises European sailings in 2014. Select a cruise to view the itinerary and fares for other stateroom grades. Give our river cruising a team a call on 0800 810 8220 if you would like more information or to book.
| Cruise Name | Date | Nts | Fares from | |
| --- | --- | --- | --- | --- |
| Portugal's River of Gold | 5th Dec 2014 | 9 | £3195 per person | SELECT |
| Rhine Discovery - Amsterdam to Basel | 6th Dec 2014 | 7 | £CALL per person | SELECT |
| Rhine Discovery - Basel to Amsterdam | 6th Dec 2014 | 7 | £CALL per person | SELECT |
| Voyage to Switzerland | 6th Dec 2014 | 9 | £CALL per person | SELECT |
| Heart of Bordeaux - Bordeaux Roundtrip | 6th Dec 2014 | 7 | £2795 per person | SELECT |
| Danube Waltz - Budapest to Passau | 8th Dec 2014 | 7 | £1345 per person | SELECT |
| Danube Waltz - Budapest to Passau | 9th Dec 2014 | 7 | £1345 per person | SELECT |
| Portugal's River of Gold | 12th Dec 2014 | 9 | £2995 per person | SELECT |
| Rhine Discovery - Amsterdam to Basel | 13th Dec 2014 | 7 | £CALL per person | SELECT |
| Rhine Discovery - Basel to Amsterdam | 13th Dec 2014 | 7 | £CALL per person | SELECT |
| Voyage to Switzerland | 13th Dec 2014 | 9 | £CALL per person | SELECT |
| Danube Waltz - Budapest to Passau | 13th Dec 2014 | 7 | £CALL per person | SELECT |
| Heart of Bordeaux - Bordeaux Roundtrip | 13th Dec 2014 | 7 | £2295 per person | SELECT |
| Danube Waltz - Budapest to Passau | 15th Dec 2014 | 7 | £CALL per person | SELECT |
| Portugal's River of Gold | 19th Dec 2014 | 9 | £CALL per person | SELECT |
| Heart of Bordeaux - Bordeaux Roundtrip | 20th Dec 2014 | 7 | £CALL per person | SELECT |
| Danube Waltz - Budapest to Passau | 22nd Dec 2014 | 7 | £CALL per person | SELECT |
| Danube Waltz - Budapest to Passau | 23rd Dec 2014 | 7 | £CALL per person | SELECT |
| Portugal's River of Gold | 26th Dec 2014 | 9 | £2695 per person | SELECT |
| Danube Waltz - Budapest to Passau | 27th Dec 2014 | 7 | £CALL per person | SELECT |