Romantic Danube 2018 & 2019 AmaWaterways River Cruise
Those longing for the romance of Old World Europe will get to travel into the very heart of the continent, where empires were built, kings and queens were crowned and some of the world's greatest music was composed and performed by the likes of Mozart and Beethoven. Grand European cities like Vienna, Bratislava and Budapest forever remain timeless. Admire the beauty of Austria's Lake District and the Czech Republic's charming mountain town, Český Krumlov. From grand abbeys and fortresses perched high above the Danube to plentiful iconic UNESCO World Heritage Sites, be romanced by the Danube with all her regal and romantic splendour.
Early Booking Discount! Save up to £500 per person on selected 2019 departures!*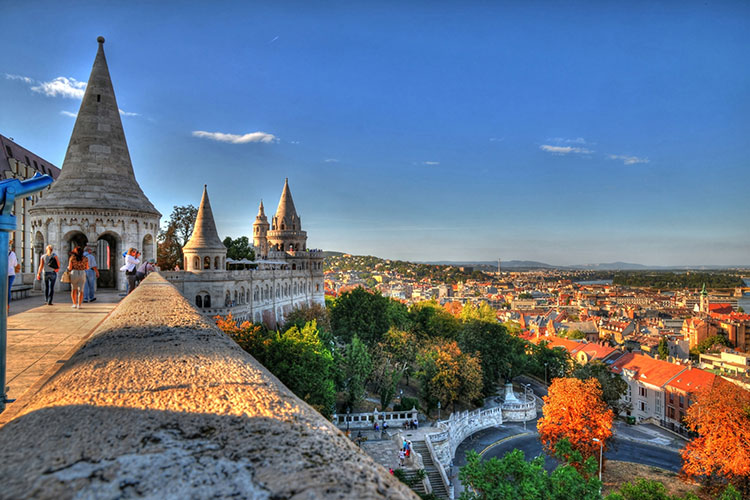 Price Guide
Fares displayed are cruise only, please call or enquire online for flights.
Date
Price (pp)
23 March 2018
£3,975

Cat SS French Balcony Suite

24 March 2018
£2,375

Cat C French Balcony

30 March 2018
£3,175

Cat AA Twin Balcony

06 April 2018
£2,175
13 April 2018
£4,239

Cat SS Fr

20 April 2018
£2,299
27 April 2018
£3,439

Cat AB Twin Balcony

04 May 2018
£2,499
11 May 2018
£2,569
18 May 2018
£2,569
25 May 2018
£2,569
27 May 2018
£2,569
01 June 2018
£2,975

Cat C French Balcony

08 June 2018
£2,575
10 June 2018
£2,575
15 June 2018
£2,375
22 June 2018
£2,569
24 June 2018
£2,975

Cat CA French Balcony

29 June 2018
£2,199
06 July 2018
£2,499
08 July 2018
£4,499

Cat SS French Balcony Suite

13 July 2018
£2,499
20 July 2018
£2,499
22 July 2018
£2,335
27 July 2018
£2,335
03 August 2018
£2,499
05 August 2018
£2,499
10 August 2018
£2,335
19 August 2018
£2,569
24 August 2018
£2,639
31 August 2018
£2,699
02 September 2018
£2,699
14 September 2018
£2,699
16 September 2018
£2,699
21 September 2018
£2,699
28 September 2018
£2,699
05 October 2018
£2,499
12 October 2018
£2,575
14 October 2018
£2,575
26 October 2018
£2,025
28 October 2018
£2,025
02 November 2018
£1,649
09 November 2018
£2,639
11 November 2018
£1,555
22 March 2019
£1,529
30 March 2019
£1,599
31 March 2019
£1,599
14 April 2019
£2,299
19 April 2019
£2,029
26 April 2019
£2,169
28 April 2019
£2,339
28 April 2019
£2,339
03 May 2019
£2,415
05 May 2019
£2,555
10 May 2019
£2,415
17 May 2019
£2,699
24 May 2019
£2,479
26 May 2019
£2,479
31 May 2019
£2,699
02 June 2019
£2,625
07 June 2019
£2,485
14 June 2019
£2,485
16 June 2019
£2,625
21 June 2019
£2,479
23 June 2019
£2,479
23 June 2019
£2,479
30 June 2019
£2,625
05 July 2019
£2,485
14 July 2019
£2,625
19 July 2019
£2,479
21 July 2019
£2,479
26 July 2019
£2,479
28 July 2019
£2,619
02 August 2019
£2,479
09 August 2019
£2,479
11 August 2019
£2,449
16 August 2019
£2,479
18 August 2019
£2,479
25 August 2019
£2,699
30 August 2019
£2,619
08 September 2019
£2,839
13 September 2019
£2,699
15 September 2019
£2,899
22 September 2019
£2,839
27 September 2019
£2,699
04 October 2019
£2,899
06 October 2019
£2,769
11 October 2019
£2,555
13 October 2019
£2,555
18 October 2019
£2,485
20 October 2019
£2,555
Extend Your Cruise
Extend your stay, pre or post cruise, with these great value cruise extensions! Simply give our award winning team a call for full details on 0800 810 8220
2 nights pre cruise stay in Prague from £520pp (2018 departures only)
3 nights pre cruise stay in Prague from £598pp (2019 departures only)
2 nights pre cruise stay in Munich from £521pp (2019 departures only)
What's Included
Early Booking Discount! Save up to £700pp on selected 2019 departures*
7 nights luxury accommodation
La Chaîne des Rôtisseurs exclusive dining experience
Immersive tours in every destination
Entertainment on Demand system featuring, movies, TV shows, news and music
Bottled water replenished daily
Personalized service from a highly trained Cruise Manager during both cruise and land programs
Internet and Wi-Fi access
Daily entertainment including cultural performances
Regionally inspired cuisine made with locally sourced ingredients
Captain's Welcome Cocktail and Dinner
Unlimited fine wine, beer and soft drinks with lunch and dinner
Unlimited sparkling wine and fresh juice with breakfast
Sip & Sail Daily Cocktail Hour with complimentary wine, beer, spirits and soft drinks
Tapas, sandwiches, snacks and refreshments served daily in the Main Lounge